February 5, 2017 Bridge to Beethoven I - Philadelphia Chamber Music Society
BBC Music Magazine, March 2017 Issue
Jennifer Koh March 21 concert with Shai Wosner is listed in the March issue of BBC Music Magazine as a top live event of the month.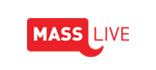 February 5, 2017 Jennifer Koh and Shai Wosner shine in Valley Classical Concert (review)
By Clifton Noble Jr., MassLive
"Koh's "Bridge to Beethoven" project, pairing Beethoven's ten sonatas with works by contemporary composers, (Jorg Widmann, Andrew Norman, and Anthony Cheung join Vijay Iyer in this endeavor) is a superb idea, and deserves a lot of credit. It may succeed in enlarging the repertoire for the violin, or it may simply highlight Beethoven's enduring genius, but it ultimately draws deserved attention to art music."
November 22, 2016 Jennifer Koh will open the 2017 Ojai Music Festival
playing the world premiere of Vijay Iyer's violin concerto with ICE on June 8
Ventura County Star
Diversity highlights 2017 Ojai Music Festival lineup
"Highlights include several works by Music Director Vijay Iyer, including the world premiere of his "Violin Concerto," written for and performed by Koh..."

November 17, 2016 Jennifer Koh will open the 2017 Ojai Music Festival
playing the world premiere of Vijay Iyer's violin concerto with ICE on June 8.
By Mark Swed, Los Angeles Times
"Violinist Jennifer Koh (who, it was announced Thursday, will premiere a concerto by Iyer at the Ojai Music Festival in June) did something similar recently with her Bach Project."
October 15, 2016 The Memorable Duo
By Roman Markowicz, Concerto Net
"Shai Wosner and Jennifer Koh have been performing together for over a decade. They last appeared in New York City during the 2015-16 season, when they offered a four-concert project "Bridge to Beethoven", in which all of the Sonatas for Piano and Violin were presented in the context of contemporary work especially commissioned for that occasion..."
July 29, 2016 Building bridges: Violinist Jennifer Koh
By James M. Keller, Santa Fe New Mexican
"Two words kept coming up during a recent phone conversation with the violinist Jennifer Koh: "bridge" and "community." That inclusive phrasing was surprising since the topic was the pair of recitals she performs at the Santa Fe Chamber Music Festival on Friday, July 29, and Saturday, July 30, both of which are solitary affairs, made up entirely of works for unaccompanied violin."

June 6, 2016 Jennifer Koh Eloquently Tames 32 Musical Beasts
By Daniel Stephen Johnson, Musical America
"One of the New York Philharmonic Biennial's most alluring facets, as the event heads into its second summer, has been the presentation of satellite concerts curated by well-chosen new-music proponents and presenters at venues around the city. This has the effect of shining the orchestra's high-profile spotlight on a genre that doesn't often get one. Among the beneficiaries was a program entitled Shared Madness, in which Jennifer Koh unveiled a series of 32 new miniatures for unaccompanied violin over two consecutive Tuesdays at National Sawdust in Williamsburg."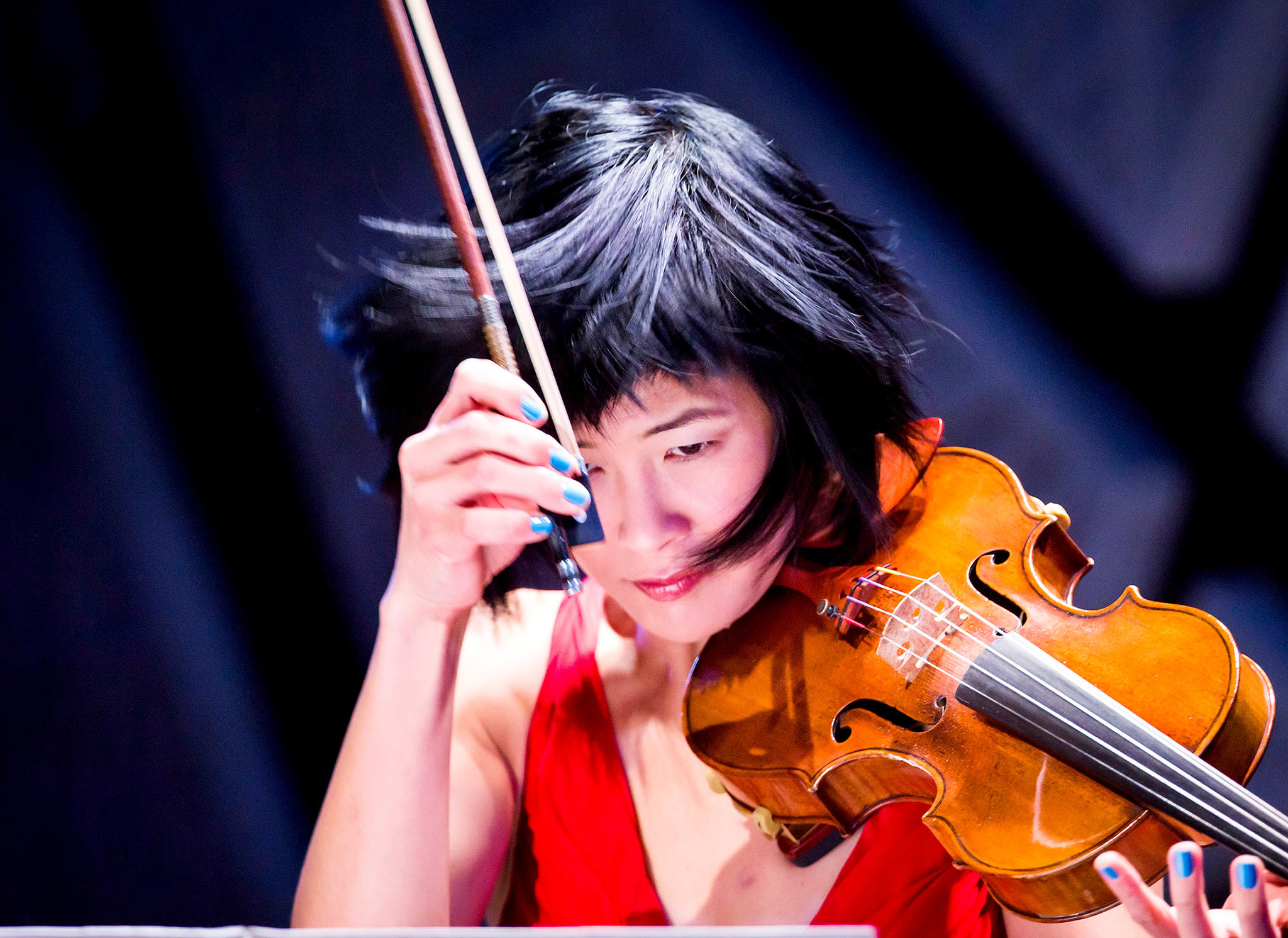 Photo by Chris Lee
June 1, 2016 Review: Jennifer Koh Asks 32 Musicians to Respond to Paganini
By Corinna da Fonseca-Wollheim, The New York Times
"...given the opportunity to channel their inner virtuoso, many composers seemed to say, rather, 'I don't play that way'"

May 24 and 31, 2016 at 7 PM EDT Shared Madness Live Stream
For those of you unable to attend Jennifer's two concerts at the National Sawdust tomorrow (5/24) and next Tuesday (5/31) featuring arco collaborative's Shared Madness project, there is an alternative way to join in the adventure. WQXR's Q2 Music will stream both recitals live via the Interrnet.
Click here for the May 24 stream, and here for the May 31 stream.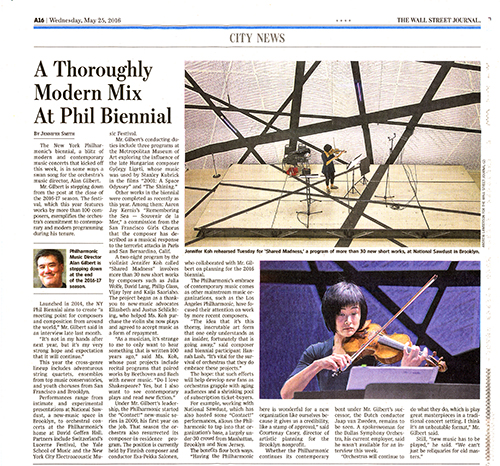 May 24, 2016 At New York Phil Biennial, a Thoroughly Modern Mix
The blitz of modern and contemporary music is also a swan song for director Alan Gilbert
Jennifer Smith, The Wall Street Journal
"As a musician, it's strange to me to only want to hear something that is written 100 years ago," said Ms. Koh... "Do I love Shakespeare? Yes, but I also want to see contemporary plays and read new fiction."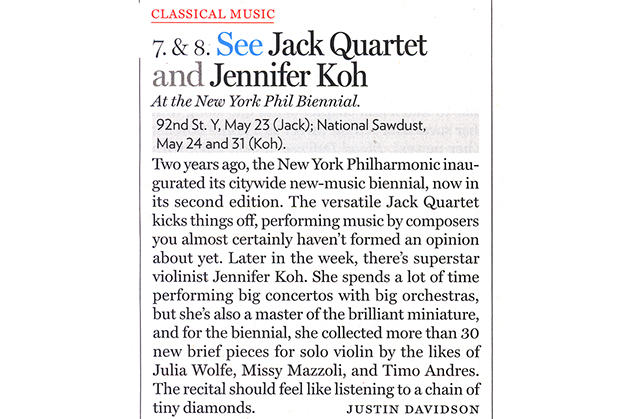 May 15, 2016 See Jack Quartet and Jennifer Koh
Justin Davidson, New York Magazine
At the New York Phil Biennial.
92nd St. Y, May 23 (Jack); National Sawdust, May 24 and 31 (Koh).
"Two years ago, the New York Philharmonic inaugurated its citywide new-music biennial, now in its second edition. The versatile Jack Quartet kicks things off, performing music by composers you almost certainly haven't formed an opinion about yet. Later in the week, there's superstar violinist Jennifer Koh. She spends a lot of time performing big concertos with big orchestras, but she's also a master of the brilliant miniature, and for the biennial, she collected more than 30 new brief pieces for solo violin by the likes of Julia Wolfe, Missy Mazzoli, and Timo Andres. The recital should feel like listening to a chain of tiny diamonds."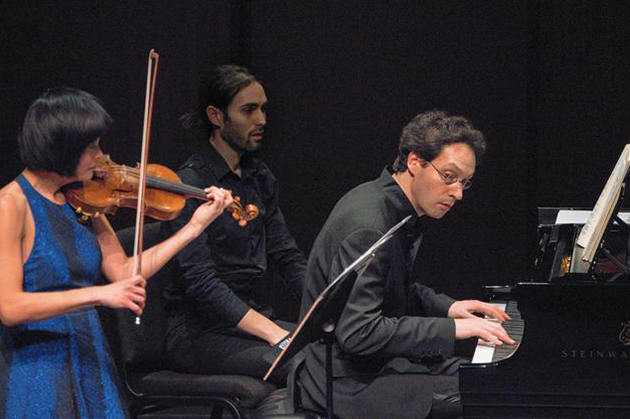 Photo by Rob Latour
March 28, 2016 Review: Jennifer Koh and Shai Wosner play in the transforming spirit of Beethoven
Mark Swed, Los Angeles Times
"Koh... maintained an exceptional even keel, her tone pure, not muddied by excessive vibrato. She phrased with elegance. Wosner proved an equally understated and elegant partner. Slow movements were exquisite."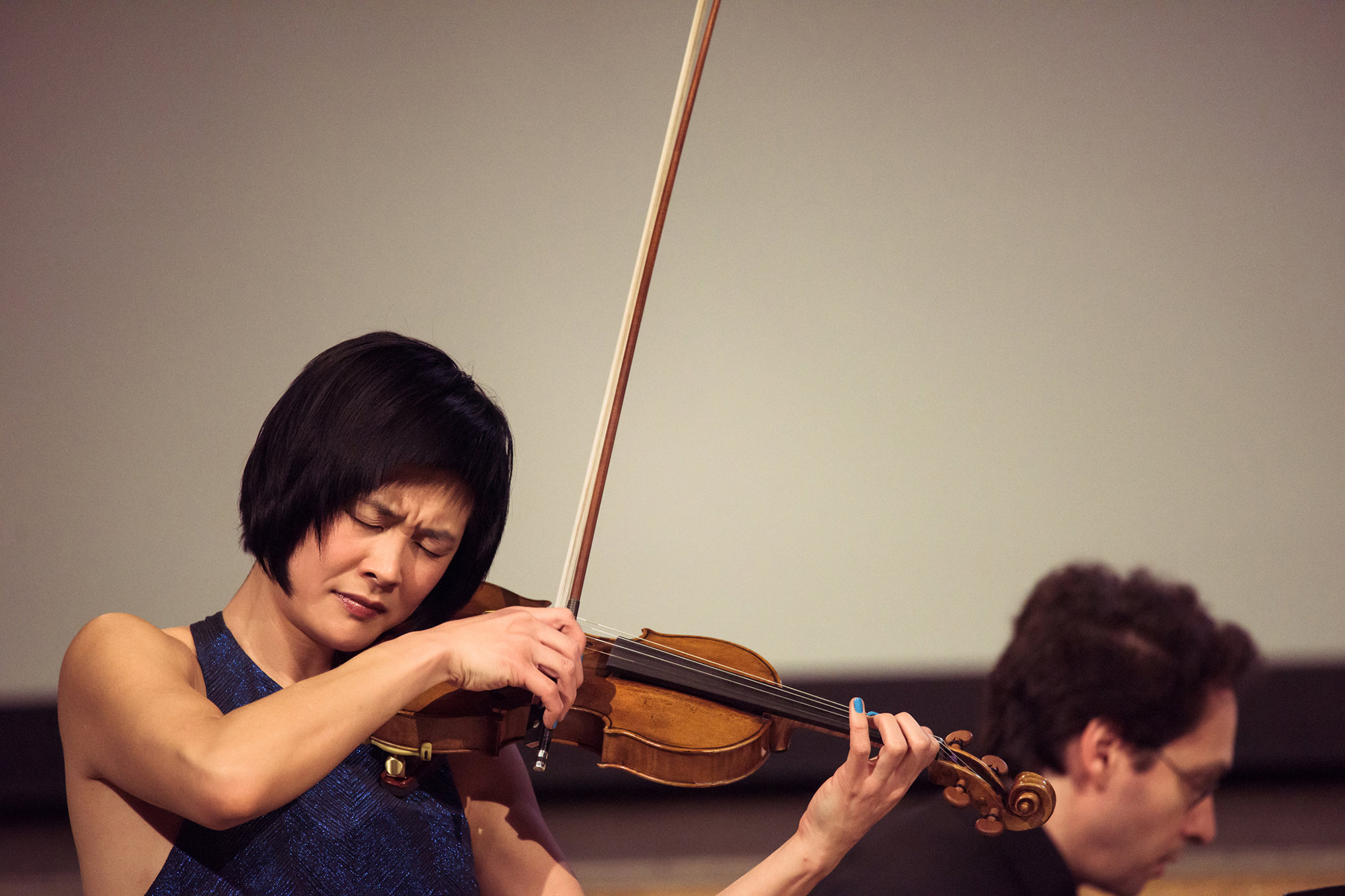 Photo by Loren Wohl
March 22, 2016 Review: Anthony Cheung's 'Elective Memory,' a Response to Beethoven
Anthony Tommasini, The New York Times
"Ms. Koh and Mr. Wosner played the piece beautifully, though it might have been more helpful to hear it after the sonata that inspired it, which was given an eloquent performance here. The scintillating account of the feisty Beethoven sonata that opened the program was also especially enjoyable."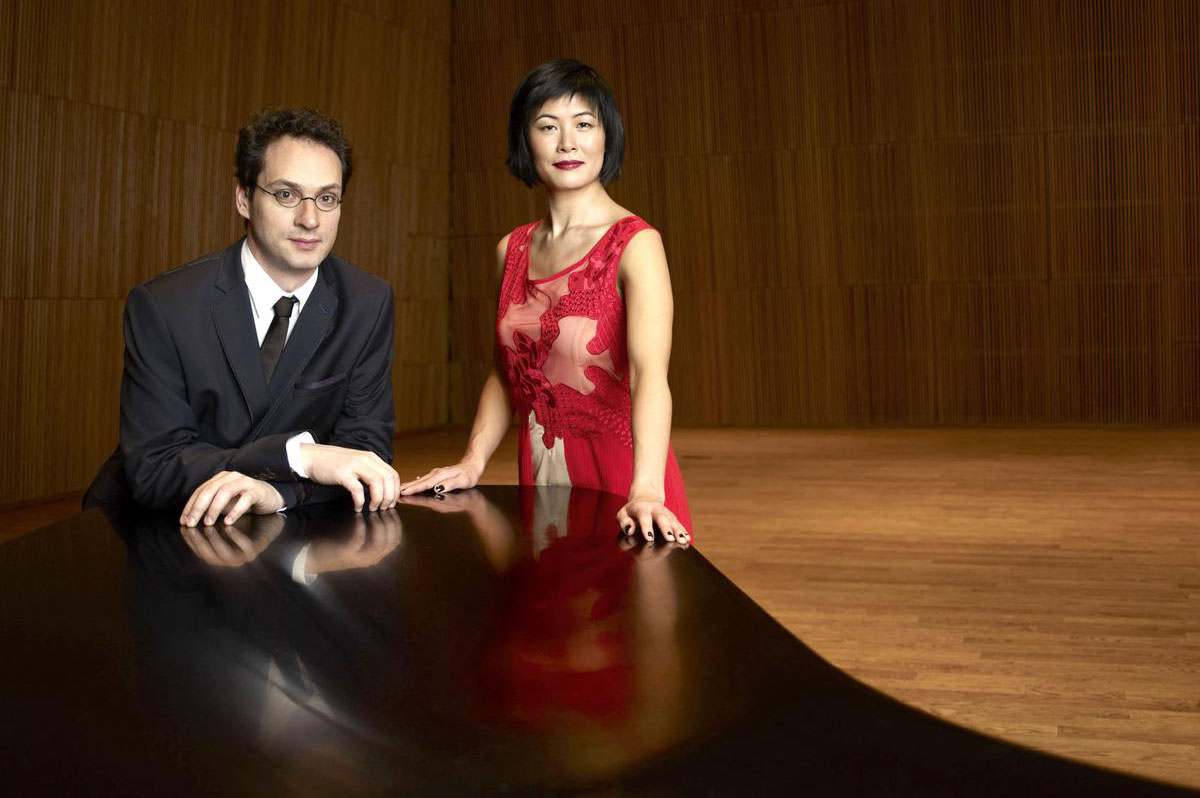 Photo by Juergen Frank
February 14, 2016 Laguna Beach Music Festival peaks with Jennifer Koh and Shai Wosner
Orange County Register
"Violinist Jennifer Koh and pianist Shai Wosner were the co-artistic directors. Both have made contemporary music an integral part of their careers, and together they have been working on a Bridge to Beethoven project (Sunday's concert was to feature its latest product), which pairs newly commissioned works with the Beethoven violin sonatas. Making connections is important to these musicians."
January 28, 2016 Jennifer Koh Talks 'Bridge to Beethoven' Inspiration?
Shane Jordan, Classicallite.com
"I wanted to create a project that explores diversity in a compelling way, where people can engage with different cultural voices in a musical conversation."
November 17, 2015 Violinist Jennifer Koh engages Beethoven via modern music
David Weininger, Boston Globe
"The fruit of that inquiry is "Bridge to Beethoven," a series of concerts mixing Beethoven's violin sonatas with newly commissioned works by composers from a variety of ethnic backgrounds."
November 16, 2015 'Bridge to Beethoven' Review: Where Old Meets New
Barbara Jepson, The Wall Street Journal
"Like the "Kreutzer," Mr. Iyer's piece begins slowly, then increases in tempo. About 17 minutes long in this performance, it opens with Mr. Wosner producing thumps with the piano's sustaining pedal and other percussive effects while Ms. Koh plays wispy harmonics in the violin stratosphere. Written in a loosely atonal idiom, "Fantasy" veers from sparse repeated tones and lyric shards to propulsive rhythms. After a middle section that gives the performers some improvisational freedom, the engaging finale builds fitfully to a manic, whirling-dervish ending, matching the intensity, if not the inspiration, of the "Kreutzer" Sonata's weighty first movement. Ms. Koh's command of the various bowing techniques required was breathtaking."
November 5, 2015 Koh and Wosner Unveil a Beethoven Journey, San Francisco Chronicle
Joshua Kosman, San Francisco Chronicle
"Musical works never exist in a historical vacuum — they interact closely with everything that's come before and after — but performing artists don't always draw the connections carefully enough. Among those who do are the violinist Jennifer Koh and pianist Shai Wosner, whose promising new commissioning project, Bridge to Beethoven, had its first local airing on Wednesday night, in an inspired Herbst Theatre recital presented by San Francisco Performances."
November 5, 2015 Review: Koh, Wosner build a 'Bridge to Beethoven' at the Herbst in San Francisco
Georgia Rowe, San Jose Mercury News
"Koh, who made her San Francisco Performances debut in 2003, is simply remarkable--an artist who combines a questing spirit with tonal refinement and a kind of fearless virtuosity. Anyone who witnessed her extended violin solo in Philip Glass' 'Einstein on the Beach' at Cal Performances a few years back can attest to her brilliance. Yet Wosner, making his first San Francisco Performances appearance on this program, was every bit her match. Together, these two musicians traversed the evening's works with superb style and insight."
November 3, 2015 Jennifer Koh on Building a 'Bridge to Beethoven'
Lou Fancher, San Francisco Classical Voice
A preview article and interview with Jenny on Bridge to Beethoven
"So it's bound to be a distinct pleasure to launch into what will ultimately be four performances spanning San Francisco Performances' 2015-16 season. The performances, a four-part project titled "Bridge to Beethoven," pair Beethoven's 10 sonatas for violin and piano with new works from four contemporary composers. Koh will be joined by longtime collaborator, pianist Shai Wosner."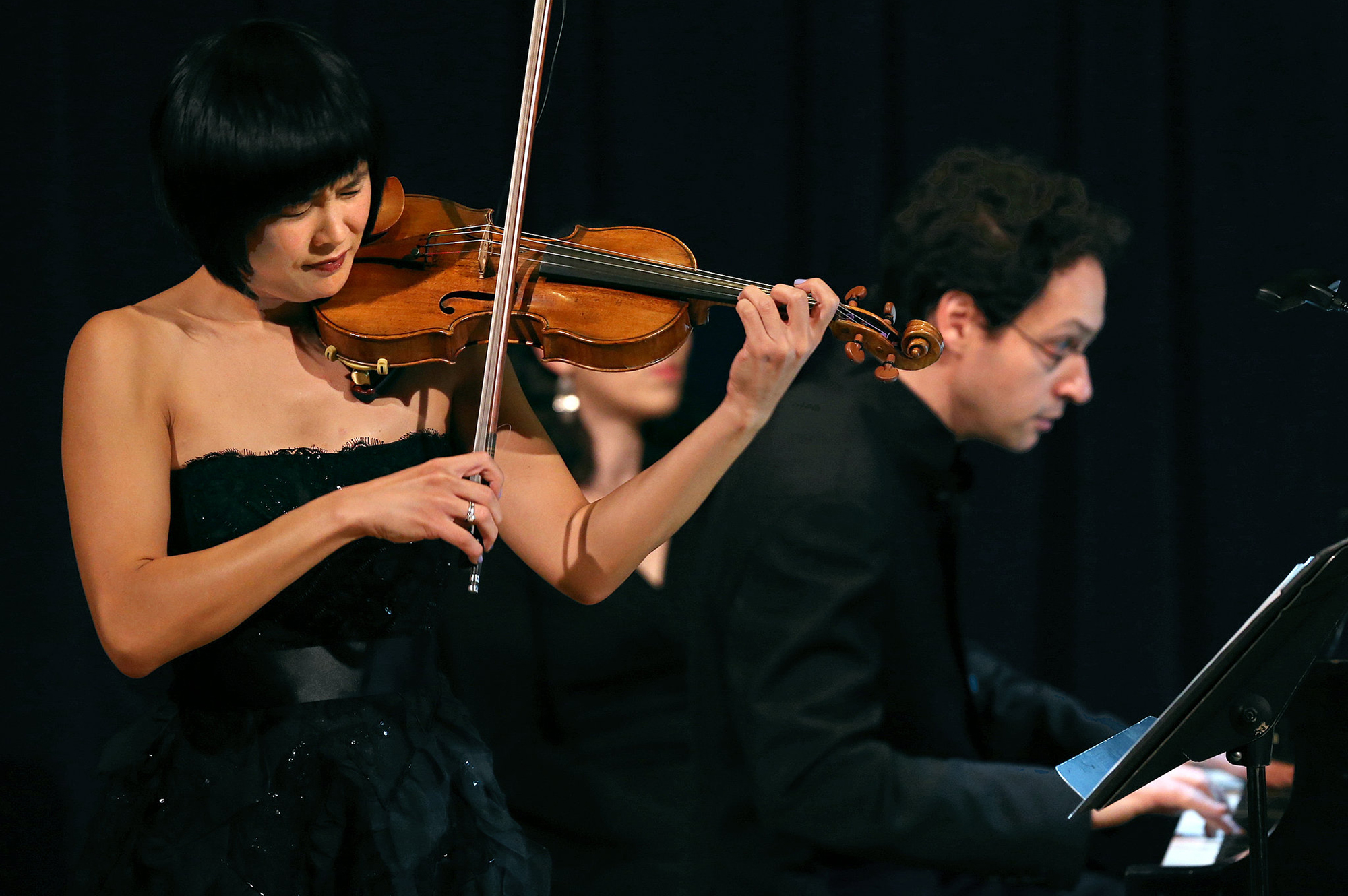 Photo by Michelle Agins
October 29, 2015 Review: For Beethoven's 'Kreutzer,' a Chance to Compare and Contrast
Zachary Woolfe, The New York Times
"The Y program was the first in Ms. Koh and Mr. Wosner's Bridge to Beethoven series, pairing new works with the 10 Beethoven violin sonatas. Monday also brought the gentle Sonata No. 1 in D and Vijay Iyer's "Bridgetower Fantasy," a reference to George Bridgetower, the charismatic violinist for whom Beethoven wrote the "Kreutzer.""

October 5, 2015 Violinist Jennifer Koh's Innovative Projects Connect Masterworks of the Past with the Present
Jeff Kaliss, Strings Magazine
""Bridge to Beethoven" is one of the latest of Koh's high-energy endeavors, in which she shares questions and answers with her colleagues and growing fan base. For the Beethoven project, she recruited a "plethora of diverse voices," including Chinese-American composer Anthony Cheung, Indian-American Vijay Iyer, and Jörg Widmann, a German composer whose commissioned Sommersonate has been paired in performance with Beethoven's "Spring" sonata."
July 20, 2015 Violinist Jennifer Koh & Pianist Shai Wosner Collaborate on 'Bridge to Beethoven'
BroadwayWorld.com
"Violinist Jennifer Koh and pianist Shai Wosner have come together to combine their personal and musical experiences in a collaborative project titled Bridge to Beethoven that explores the impact and significance Beethoven has had on a culturally diverse group of composers and musicians. The recital series pairs Beethoven's Complete Violin Sonatas with works by composers of different ethnic lineage in four distinct programs featuring three works commissioned for the series by Vijay Iyer, Andrew Norman, and Anthony Cheung which serve as companion pieces to select sonatas, and Jörg Widmann's Sommersonate."
April 28, 2015 Jennifer Koh and Pianist Shai Wosner at Hahn Hall
Joseph Miller, The Independent
"the collaboration was nothing short of brilliant"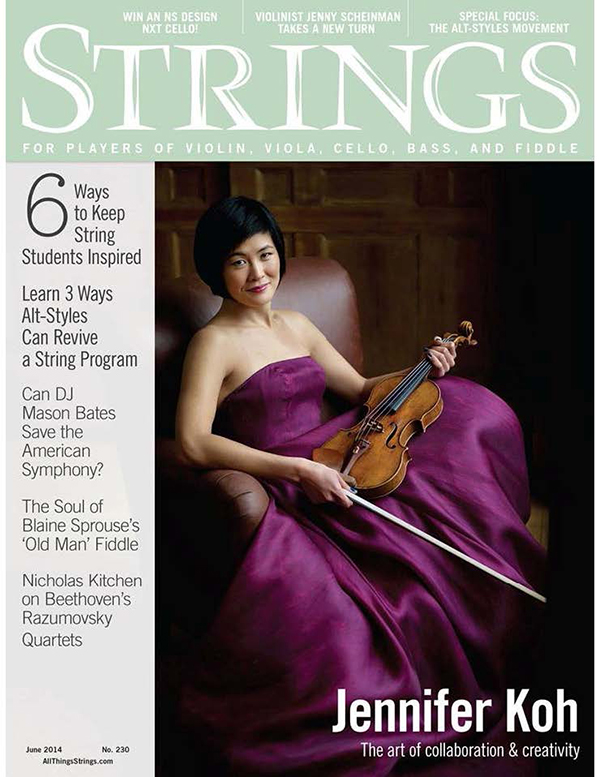 June 2014 Jennifer Koh, The Art of Collaboration and Creativity
Strings Magazine
"Violinist Jennifer Koh is all about the now — not only full immersion in the performance at hand but a career that has employed a number of today's prominent composers. Besides her gifts as a dazzling violinist and convincing interpreter of the canon, Koh is a meticulous programmer who devises multiyear projects, honoring great composition cycles by cementing them with new works spawned by the originals."